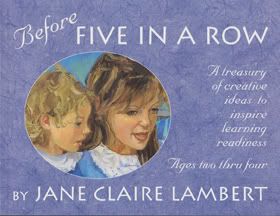 I first became familiar with
Five in a Row
when my oldest was just a wee one. I was attending a MOPS group and one of my closest friends was planning to homeschool. I was fascinated by the concept of homeschooling but at the time had no idea I could since my oldest had special needs. (But THAT is another story!)
Five in a Row
(or FIAR in online homeschool circles) is a weekly unit-based curriculum that focuses one one book for an entire week ("the unit.") The parent reads the book to their children - even if the child can already read. This "sets the tone" for the week and further concretes a bond between parent and child. The weekly units cover one subject per day through a variety of activities.
When purchasing the
Five in a Row
products, what you get is a lesson plan book for mom (or dad!) Many of the books that are used in the curriculum are available at the library or you may choose to purchase them.
Before Five in a Row
(BFIAR) is the preschool program. It is designed for children ages two through four. The activities are lighter and much less school-y. The children may not even realize they are learning, but will savor the discussion and fun that the program provides for them.
What's It Gonna Cost Me?
FIAR products are available in printed format through Rainbow Resources (linked here with a
personal note
from the authors) or
digitally
through the author's website.
When purchasing any of the
Five in a Row
unit studies, what you are actually purchasing is a lesson plan book or guide. It is for the teacher, not the student. The books used in the studies must either be purchased or borrowed. With 70 units in four volumes, the author encourages you as the teacher to choose the units that you want to do in the order you want to do them. Many books are available in local libraries and
Rainbow Resource
have literature bundle packs for those who want to add the books to their home libraries permanently. I've seen many of the books in curriculum sales too!
From the website:

For preschool or Before FIAR you'll need nothing else. For FIAR for ages 5/6 you'll need a good phonics program and a simple introduction to math. For children who are already reading successfully, you'll need to supplement daily math and spelling as well as penmanship and grammar IF you choose to teach those as individual subjects.
Other Products

Unless otherwise noted, the prices listed below are the printed materials available at
Rainbow Resource
.
Before Five in a Row
ages 2-4
35.00
Literature Package (includes 19 books for the BFIAR program)
97.50
Five in a Row
ages 7-8
four individually priced volumes
35.00
Beyond Five in a Row
Grades 3-7
35.00
Above and Beyond Five in a Row
ages 12 and up
Digital Format
19.00
Five in a Row Holiday
Digital Format
6.00
There are many other products available including a cookbook, geography disks and even a planner!
Check It Out
There are
samples
on the website that let you preview the lesson plans before you make a purchase. They are not downloadable but you can read the informationa nd see if this is a good fit for your family.
Final Word
I really, really love
Five in a Row
! I am thrilled to know that there are options for older kids and plan to purchase it for my homeschool.
Legal Disclaimer: As a member of the TOS Crew, I received Before Five in a Row free of charge from the author for the purpose of review. No other compensation was received.