We are total history buffs in this house. We also love a good game. So when I saw
Wise Alec
™
Civilize This! by Griddly Games
in the
TOS Homeschool Crew
cue, I was totally excited. I headed over to check it out and got even more excited!! I just knew this would make a great Fun Friday activity in our house.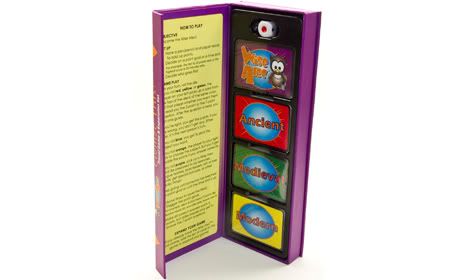 Who Can Play?
The age range for
Wise Alec™
Civilize This!
is for 2-6 players, ages 8 and Up. It is fun for kids as well as competitive adults ( parents!)
What's It Gonna Cost Me?
Other Products
Griddly Games
has a variety of educational games including the original
Wise Alec™ Family Trivia Game.
Check them all out on the
Griddly Games
website!
Check It Out
The
rules
are available for
download
on the
website
. This is especially helpful for those families who tend to lose directions (like us!)
Final Word
My youngest is pretty advanced for his age (almost 8.) He had a bit of trouble with this game since we haven't covered a variety of years in social studies yet. (Our social studies curriculum starts with the ancients and moves up through the ages. If you have only covered ancients and the US like we have, it may be better to wait a few years on this game.)
The
Wise Alec™ Family Trivia Games
are perfect for vacation and travel (even camping) since they are compact and easy to shove in your duffel bag or backpack!

Legal Disclaimer: As a member of the TOS Crew, I received Wise Alec™
Civilize This! free of charge from Griddly Games for the purpose of review. No other compensation was received.