The Time Timer is exactly what the name implies.
It's a timer what shows the time counting down with a visual cue of how much time has elapsed and how much is left.
Music Man still struggles with the concept of time - it is too abstract for him. We have had various therapists recommend using a timer for different activities throughout his life when he struggled with getting ready or eating too slow etc. I have use numerous timers in the past but they never really worked for him. He just didn't get it. And now he does. :)
The Time Timer has really helped Music Man grasp the concept of how much time he has left to do an activity.
Its quiet beep-beep lets him know when his time is up and doesn't shock you as many timers do when they are down counting down. I can ask him how much time he has left and he is actually able to tell me since it is clearly displayed on the Time Timer. The Time Timer has even helped him understand more about actually telling time since he now has a visual cue of what each increment looks like.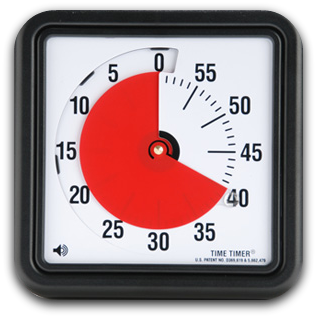 What's It Gonna Cost Me?
The Time Timer starts at $30.00 for the smallest (portable) model, which was the model we reviewed.
Other Products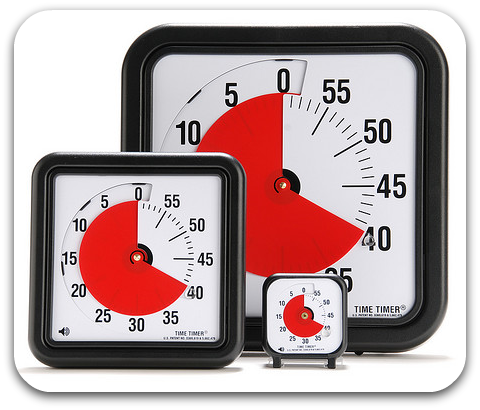 There are three sizes available - 3" (portable,) 5" (most versatile) and 8" for wall or classroom use.
Time Timer is also available for
iPod/iPad
, as a
watch
and a
software app
that floats on top of your other applications.
Final Word
We do love the Time Timer. But as a one-income family on a very tight budget, I would honestly not have even considered it though for the price that it is. I wish the smaller one was a more reasonable price, especially for families with special needs children. I think it would be invaluable in a special needs classroom and has definitely helped Music Man "see" how much time is left for his activities. But even now, knowing how much I love it, it is a challenge for me to say put this on your purchase list only because of the cost. If you have an older child who is struggling with the concept of time, it may very well be worth the purchase price.
Legal Disclaimer: As a member of the TOS Crew, I received a Time Timer free of charge from Time Timer, LLC for the purpose of review. No other compensation was received.