We love games around here. Card games are probably one of our favorite types of games! And learning, well, yeah, we love that too. (Seriously!)
Fractazmic
is a fractions card game. The game play reminds me of Gin Rummy. Instead of a group of cards in laid out in ascending order, in Fractazmic the object is to add the different fractions up to make a whole, or "1."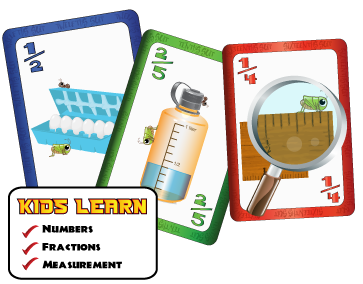 There are three colors of cards (or suits) and these adorable cartoon pictures that help kids see the fraction in their head. My boys thrive on seeing
how
math works.
Fractazmic
is a great hands-on activity that shows
how
the part of a whole fits together without the mess of cooking (which is how we usually work with fractions!)
What's It Gonna Cost Me?
$6.95
Other Products
Pyromath
(I
reviewed
Pyromath in 2010.)
Prime Bomb
I See Cards
(A car game that also teaches Spanish!)
Check It Out
The
online versions
of
Fractazmic
and
Pyromath
are available on the
I See Cards
website. Play for your chance to win your own deck!
Final Word
This is a great game for learning, but don't expect your kids to want to play this on game night. It is a nice change from our regular math routine and definitely teaches.
Legal Disclaimer: As a member of the TOS Crew, I received Fractazmic free of charge from I See Cards for the purpose of review. No other compensation was received.