Spanish. We need it in America. (That is a funny sentence, but it is actually very true.)
I took French in high school because I thought it was a prettier language. It was fun, but not very useful. (Although I did use my French just once while I was in Amsterdam on my way to Germany 17 years ago. I attempted to order from a menu and was able to determine a few things I did not want. But other than that, well, not so much.) Spanish, however, is quite a useful language both in America and abroad.
REAL stands for "Relax, Enjoy, Aspire and Learn Spanish." Created by a homeschool mom (with a doctorate in French who happens to be married to a native of Mexico,) this curriculum allows for students to learn the language and actually use it while incorporating it throughout the homeschool day. New material is introduced conversationally and then reinforced throughout the day and week in everyday life.
When you don't have a foreign language teacher living in your home, the next best thing could possibly be a teacher on your computer. We really enjoyed listening to the audio files included in with
REAL Homeschool Spanish
. Since I can only interpret a wee bit in my own limited knowledge of the Spanish language, being able to hear the words proved vital in the understand of what was being taught.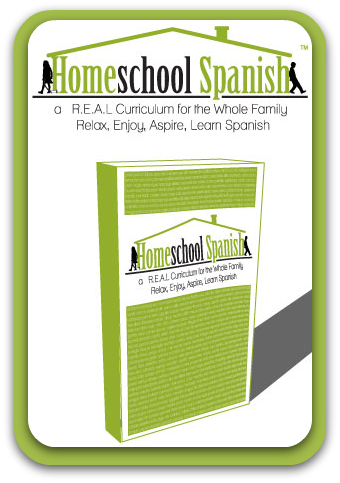 What to Teach When
REAL Homeschool Spanish
is a family curriculum. It was created for a homeschool teacher who has had a introduction to the language but needs help teaching it. However, the author notes that with some preparation can be used by parents with no knowledge of the language (like me!)
I love that it is designed to be used throughout the day rather than only in the designated Spanish subject time. If you have read my blog at all, you know that I love the living aspect of education and that I prefer education to be something we participate in rather than read and study about all the time.
REAL Homeschool Spanish
also encourages using Spanish throughout the day to reinforce what is learned.
Another point I want to make is something I have always had a problem with in learning foreign languages. Most curriculums concentrate on the reading, speaking and writing of the language but lack in conversational use.
REAL Homeschool Spanish
really focuses on the actual use of the language in addition to reading and writing.
What's It Gonna Cost Me?
Digital Download
Book, Activity Book, Answer Book and Audio Files
$49.95 (download)
$59.99 (download with Daily Curriculum Guide)
Printed
(USA only)
Book, Activity Book, Answer Book and Audio Files
$89.99 (hardcopy)
$99.99 (hardcopy with Daily Curriculum Guide)
Check It Out
A
sample
of the curriculum is available for download on the website. Included in the sample is one of my favorite things - the Daily Curriculum Guide. The
Daily Curriculum Guide
is actually a step-by-step lesson plan in a one-page weekly format. So very helpful!!!
Final Word
The website is a bit challenging to navigate. It is beautiful and fresh but somewhat incomplete (About Page is a placeholder and the navigation bar doesn't work fully.) Be prepared to use your Back button as soon of the pages do not have the nav bar at the top!
If you are considering a foreign language this is the way to go!
REAL Homeschool Spanish
is a bargain for the homeschool family since it is reusable. I have loved learning Spanish right along side my kids (as I do with many of their subjects.)
I would also encourage if you have the option, to purchase the hardcopy of this curriculum. Many times I have purchased digital downloads of curriculum due to the lesser cost. However, one needs to consider how much you will be printing when purchasing a digital download. This curriculum is exhaustive and really deserves to be in a hardbound edition. In the long run, I think it would be more cost effective to purchase the hardcopy.
Legal Disclaimer: As a member of the TOS Crew, I received a digital download of REAL Homeschool Spanish free of charge from REAL Homeschool Spanish for the purpose of review. No other compensation was received.